This section provides information on chambers of commerce, industry organizations and business incubators in the GBA to help businesses make connections and explore new opportunities.
General business
These are government departments such as the Department of Commerce of Guangdong Province, local bureaus of commerce in GBA cities, Free Trade Zone administrations, federations of industry and commerce, international chambers of commerce , foreign investment enterprises and incubators for start-ups especially in technology and innovation.
Selected websites
Guangdong Province
Foshan
Jiangmen
Zhongshan
Macao
Guangzhou
Shenzhen
Zhuhai
Dongguan
Huizhou
Hong Kong
Zhaoqing
Professional associations and societies
Businesses can stay in touch with the following professional associations and societies to receive timely policy and market information, and expand their partnership network.
Selected websites
Product testing and certification
Electrical engineering
Law
Convention and exhibition
Building and construction
Accounting
Food
New energy vehicle
Manufacturing
Catering service
E-commerce
Industry
Internet finance
Household electrical appliances
Financing
Communication
Banking
Convention and exhibition
Foreign trade and economic cooperation
Textile
High technology
Fintech
Technological enterprise incubator
Computer software
Logistics
Healthcare and pharmaceutical industry
Watch and jewellery
Public relations and advertising
Quality inspection and testing
Business management & consultancy services
Interior design services and furniture
Information technology services
Medical supplies & medicine
Film/Audio-Visual production
HKTDC
GoGBA
WeChat
mini-programme
HKTDC's GoGBA platform offers one stop for business support on the GBA. Apart from official information useful for doing business in the GBA, it also provides physical locations (one in Hong Kong and one in Shenzhen at the HKTDC office) where networking events, training or advisory sessions are conducted.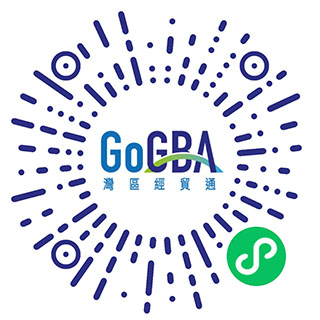 Follow us on WeChat by scanning the QR Code